First, the strength progress:
I checked a Leela Go Zero net from the month of May and a very recent one, end of October. In self rating they differ by 700 Elo points. The games were against elfv2, the best public Facebook network, and until recently, probably the strongest around at fixed time. Time control was 600 6 1, or in our "language", roughly 600'' + 6''.
GPU: RTX 2070
May network versus elfv2:
10:10
October network versus elfv2:
12:8
So, the "700 Elo points" in self ratings is hugely inflated, and the progress is probably no more than 100 Elo points in 5 months, quite modest for Go. They use some SPRT gating and no anchors, so the inflation is expected, but maybe not to a such degree.
But in any case, it seems that by now, Leela Zero weights are the strongest publicly available weights on a good GPU. Being also bignet 40x256, they probably scale better to longer time controls and stronger hardware.
Two issues about the games themselves. I used Sabaki as interface. The engine was always the latest Leela Zero 0.17. I have also the Katago engine, but it requires its own weights, and they+engine are a bit weaker (not by much).
1/
About 60%+ of the games are decided by wild swings in late midgames and endgames. Here are the eval graphs in Sabaki for two typical games (white line is the alternating eval of both engines):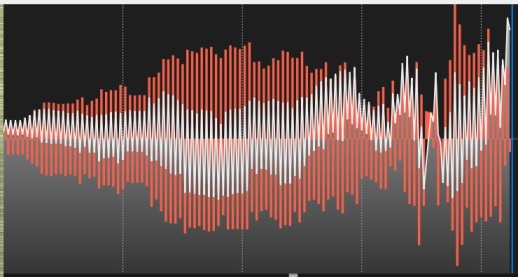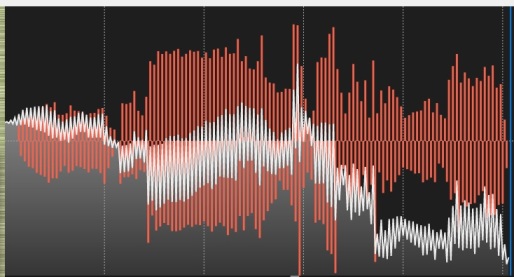 I am not sure whether it denotes an instability of the game of Go itself at high level of play towards the end of the game, or, more likely, it's the relatively poor handling of these late phases of the game compared to openings in the "Zero" approach. My naive proposal would be either to depart from "Zero" and hand-craft a patch for endgames, or to build a specific late game network, helping the main net.
2/
Here something ridiculous happened (in just 20 games played). White is the famed Facebook elfv2 network: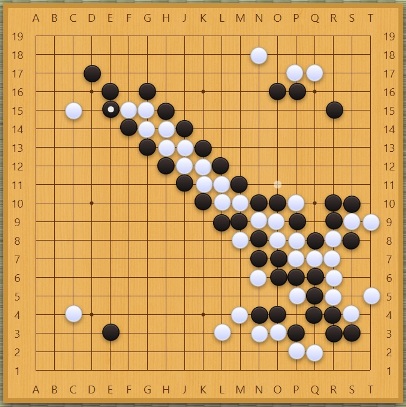 A ladder patch would be very easy to hand-craft, and here a departure from pure "Zero" approach is mandatory. I mean, these things usually play much above 9-dan pros, but here ridiculously below 5-kyu patzers.