I am rewriting the SCID's window for the engine configuration and I would like to include all the useful features.
I would appreciate if you can let me know if I forgot something or if you have suggestions.
This is what I have done: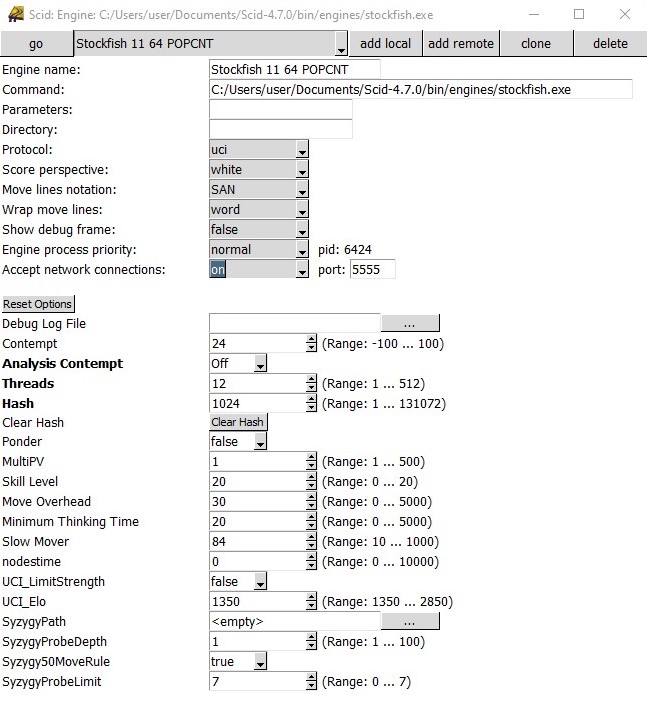 - Engine name: it is set with the name sent by the engine (uci's "id name" or xboard's "myname"). It can be changed freely.
- The usual command parameters: filename of the executable, command line args and working directory.
- The communication protocol with the engine (uci or xboard).
- Options for formatting the engine output: score perspective (white or engine), moves notation (SAN, English SAN, utf8 figurine, raw unmodified engine pv lines) and line breaks (single line, a line break may occur after any character or a line break will only be made at word boundaries).
- Debug frame: hide or show a frame with all the unmodified input/output between SCID and the engine. Useful for engine authors.
- Engine process priority: allows to give a lower priority to the engine. It is useful if you want to use all the available threads for the analysis and at the same time maintain a reactive system.
- Accept network connection: allows remote instances of SCID to connect to and use this engine. It is useful if you want to use multiple computers.
- Then there are the options sent by the engine. For each option the name, the current value and possibly the range of valid values ​​are displayed. The name of the options that have a value different from the default is displayed in bold. Clearing the value of an option restores the default value.