Hello together,
OliThink 5.7.5 has been released and there are some news about it.
- The strength is gaining while code size/complexity is shrinking. 1603 lines of code (45kbyte) with an ELO of almost 2700.
- Executables for Mac64, Linux64 and Win64
- There is an Java Version.
- There is a simple GUI for the Java Version in order to play OliThink "out-of-the-box":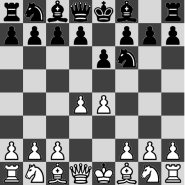 - In order to use this GUI:
http://brausch.org/home/chess/OliThinkGUI.jar
(Download, Keep (!) and start with "java -jar OliThinkGUI.jar". Depending on your security settings, you may just double-click the jar-file.)
. It has no pondering and about 1sec/move time, so it won't take much of your computer's resources.
- This Java GUI has less than 200 lines of code and hasn't been changed sind 2009:
https://github.com/olithink/olithink5Ja ... Frame.java
PS: A short gauntlet tournament with the C-Version:
Code: Select all
   # PLAYER                   :  RATING  ERROR  POINTS  PLAYED   (%)    W    D    L  D(%)  CFS(%)
   1 Scorpio_2.8.8 MCTS+NN    :      25     28   268.0     500  53.6  225   86  189  17.2      65
   2 Fruit 2.1                :      18     28   262.5     500  52.5  213   99  188  19.8      89
   3 OliThink 5.7.5           :       0   ----  1084.5    2000  54.2  893  383  724  19.1     100
   4 K2 v.087                 :     -44     28   218.5     500  43.7  158  121  221  24.2     100
   5 Arasan 11.7              :    -122     28   166.5     500  33.3  128   77  295  15.4     ---

White advantage = -0.18 +/- 7.26
Draw rate (equal opponents) = 19.57 % +/- 0.90