I just came yesterday with an idea I'll have no time to test before months. But maybe someone will have time to do it? It's an extended version of chess, hence called XChess.
The idea is VERY simple: playing normal chess on a 14x14 board (a-n columns x 1-14 ranks), with doubling the rooks, knights and bishops. For instance, the board would look like this in the beginning :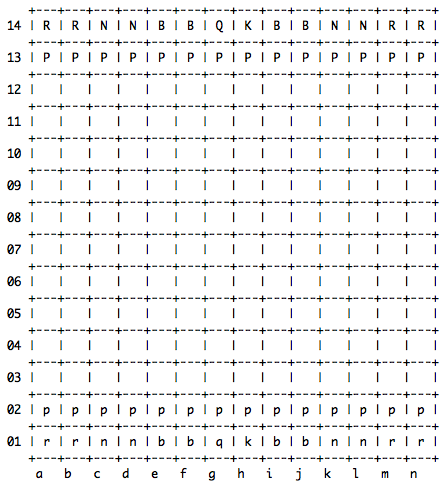 For their first move, the white pawns could move up to the 7th rank, and the black pawn up to the 8th rank, although they could chose any square between this one and their starting point. Each pawn moving that way (that is, more than one square), could be captured en passant.
For castling, white could chose :
- kingside: the king could chose any square between k-m, with the rook sitting just after it (for instance: king in L1, and rook in K1)
- queenside: the king could chose any square between c-e, with the rook jumping right after it, likewise.
(Equivalent moves for the black king).
Such a chess game would have a much higher branch factor and the game would take longer to finish, being, I suspect, a good compromise between the very tactical modern chess and the much too slow go-moku. I think that would be a come back to more strategy and less tactics.
What do you guys think?